Voorthuizerstraat 148, 3881 SL Putten,  The Netherlands
sales@2sistersstorteboom.com  |  [+31] 088 7530753  |  www.2sistersstorteboom.nl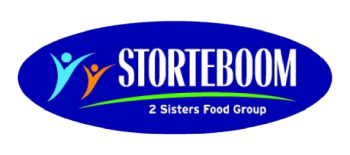 Storteboom has a long history since 1904.
In 1904, Mr T. Storteboom left with his cargo bike to the local market to sell poultry. In the course of the 20th century he and his family built the company that is now one of the largest players in the Netherlands.
Quality system certified for Better Life quality mark, BRC, Halal, IFS, IKB, ISO 14001, McDonalds, LGK, NSK and QS.
Our passion for quality and food safety is at the core of everything we do. We supply products that meet all (legal) requirements with regard to food safety. We strive to be the most reliable partner by supplying high-quality products and applying the latest technology.
Production process
We exclusively work with high-quality production processes. In both slaughterhouses we work with gas stunning, with a lot of attention for animal welfare. All production locations are equipped with the latest technologies and innovations.