Argonstraat 2, 7031 HZ Wehl, The Netherlands    |    info@esbro.nl   |    [+31 314 332 741]    |    www.esbro.nl
Esbro Premium Poultry Concepts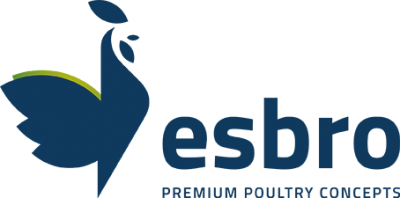 The most progressive poultry slaughterhouse in the Netherlands.
We are ESBRO, the most progressive poultry slaughterhouse in the Netherlands. And at the same time a family business with a rich history. That is what makes us so special. Innovation and quality have always been leading in our business operations. That's just in our genes. We, 600 people strong, stand for premium poultry. Some team members have been with us for over 50 years!
Our mentality fits with the Achterhoek. Up early, shoulder to the wheel, representing our brand new quality. When and what you want to order, we arrange it. For us, that may have become ingrained, but it is still unique.
We started in 1964 in Doetinchem. Since 2016 we are a subsidiary of PHW/Wiesenhof. This family business, with approximately 6,900 employees and a total turnover of 2.5 billion euros, produces and sells high-quality poultry specialties under the Wiesenhof brand name. This makes it the largest player in the German poultry market.
We have grown into a hypermodern slaughterhouse, now established in Wehl, Gelderland. With the same enthusiasm for our profession and with all the facilities available for a vital future.
Thanks to PHW we can operate from our own fully controlled chain. From egg to efficient logistics: everything is in-house.  It is precisely through this complete chain integration that we have a unique position in the market.
A suitable answer at lightning speed
We work closely with GroenlandKip, as we are part of the GroenlandGroup. GroenlandKip is a specialist in concepting, packaging and distribution. Together we have an appropriate response to every demand from the market. Because of our bundled knowledge and short lines, we are able to do business at lightning speed. In our own country but also at international level.
Vision
For its customers, Groenlandgroup wants to be the innovative partner and innovative range of chicken and poultry meat. We achieve this by control over the entire chain, from farm to poultry product, both commercially and logistically. In doing so, we approach everyone who is involved in our company with respect and offer our employees a safe and reliable working environment.
Mission
By combining product knowledge with our control over the entire chain, we can quickly and actively respond to the latest developments. We share the added value generated with our customers. Animal welfare and sustainability are an integral and inseparable part of our business.
Core values
Razor-sharp, Farm Fresh, Chain Power!
Production process
Our hypermodern slaughterhouse was brought into use in 2013. 1,5 million chickens can be slaughtered on high speed lines on a weekly basis. We are not only the newest and most sustainable slaughterhouse in the Netherlands, but also the one with the largest capacity.
How do we make a difference every day? It has everything to do with our razor-sharp method in the whole process. We always pay attention to detail because a millimetre more or less can make a world of difference. 
Smart layout
Our facilities are designed in such a way that we can work extremely efficiently. We have invested heavily in further automation of part cutters and packaging techniques. By placing these directly after our slaughter line, we gain crucial time in shelf life, freshness and delivery time.
Quality and sustainability
As a leading slaughterhouse, we stand for razor-sharp quality every day. Our products are seen as the best in the market when it comes to cut and shelf life. To ensure this, we work with different quality certifications. Our quality system ensures control of all products throughout the entire chain. At Esbro, for a smooth running process, we are qualified for a wide range of quality systems: SKAL, Halal, Beter Leven, IKB, BRC and QS.
In addition, we believe that quality is also in the mind. That is why we invest heavily in knowledge and involvement: taking that blue piece of meat out, straightening the fillet. The eye for attention is what makes the difference. It is our pride. So you can count on quality products that meet both the most recent legal requirements and the customer requirements. That is what we call premium quality.
Esbro has the latest technology. All our filleting lines for both breast and leg meat are equipped with X-ray to detect bone residues. The feet (paws) are processed at Esbro and sorted by quality and weight, we do this with the latest technology. With the unique set-up and hygiene regulations, Esbro can produce feet that are suitable for human consumption.
Sustainability
Sustainability is important for our future, Esbro uses the latest techniques. We are working on saving water through filtering and reuse. Esbro also has its own source and water treatment.
The greatest sustainability is achieved within PHW, we are proud members of the RSPO (Roundtable Sustainable Palm Oil) and RTRS (Roundtable on Responsible Soy) and we actively work with Proterra to prevent deforestation.
Our stables are equipped with solar panels to heat the stables and we separate the fats for the processing of biofuel.
Esbro has its own freezing options; in addition to 2 freezer tunnels, Esbro also has a deep-freeze storage facility with a capacity of more than 1500 pallet spaces. Everything under one roof, which guarantees the quality of the goods. For the Dutch and German customers Esbro provides the deliveries with their own transport. For export to other countries, we work together with selected transporters from which we have received excellent service for years.
Products
At Esbro, the whole chicken is valued/used. From whole chicken to breast caps, from organs to feet.
Aside from by-products (feathers/casing package), Esbro can offer all its products for human consumption.
All these products can be delivered both from conventional farms, as well as free range or organic.