Van Godewijckstraat 30, 3311 GX Dordrecht, The Netherlands
sales@knh.nl   |    [ +31 786321220 ]    |   www.kuhneheitz.com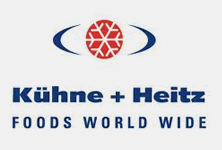 Kühne + Heitz, International food supplier since 1974!
As a food supplier company Kühne + Heitz purchases frozen products worldwide and distributes these in more than 100 countries around the globe. With our experience we are one of the best food suppliers in the world.
Kühne + Heitz is renowned for being a reliable partner that offers high quality products and brands
We provide a professional service in every aspect of your business, including our packaging, quality control, documentation, logistics and customer service. We offer all of our services with competitive pricing.
Distribution
– One stop, full service partner for food distribution companies since 1974. Full range; poultry, pork, beef, fish, vegetables, French fries and dairy.